Contact Emergency Services
Police, Fire, EMS, Animal Control
or
---

The Town of Weston has instituted the CodeRED Emergency Notification System. Sign up for the CodeRED Early Warning System
CodeRed FAQ available here.
---
Weston Town Hall
.

Office Hours 9:00am-4:30 pm
Monday - Friday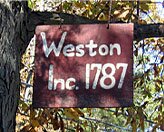 Enjoy the beautiful scenery in Weston this Fall.



Kidstock Concert January 31, 2010
Date Posted:
1-07-10
CORRECTION - KIDSTOCK WILL BE HELD AT THE WESTON INTERMEDIATE SCHOOL - not at the Middle School as originally advertised.  Calling all princesses and race car fans:  gear up for an afternoon of music and magic at Weston's 6th annual Kidstock at the Weston Intermediate School Cafetorium on Sunday, January 31st from 2:00 - 4:00pm. 

Click Here

for more information.

"SPEAK UP" scheduled for February 6, 2010.
Date Posted:
1-06-10
The League of Women Voters of Weston will hold its 19th annual Speak Up program, Saturday, February 6th at the Norfield Congregational Church Parish Hall from 10:30am until noon.
Everyone is invited to attend this forum with many of Weston's elected town officials.  There is no set agenda; attendees may bring whatever questions or statements are on their minds to be discussed with those who can make a difference in the way the town is managed.  Speak Up is free and open to the public.
                                                                                                     -from the Weston Forum.

Town of Weston Budget Schedule
Date Posted:
12-14-09
On March 23, 2010, the Board of Finance will hold a Public Hearing on the 2 proposed budget in the Middle School Cafeteria.  The Annual Town Budget Meeting will be held Wednesday, April 7, 2010 in the High School Auditorium.  

Click Here

for a complete Budget Review Schedule.

St. Francis Preschool Bingo Night Saturday, January 6th at 6:00pm
Date Posted:
12-14-09
Check out the Events Page for more information on this exciting evening.


>> Click here for complete news listings.
>> Click here for complete events listings.