Contact Emergency Services
Police, Fire, EMS, Animal Control
or
---

The Town of Weston has instituted the CodeRED Emergency Notification System. Sign up for the CodeRED Early Warning System
CodeRed FAQ available here.
---
Weston Town Hall
.

Office Hours 9:00am-4:30 pm
Monday - Friday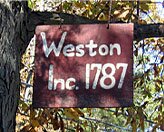 Enjoy the beautiful scenery in Weston this Fall.



Representative John Shaban will be in Weston on Monday, May 2nd
Date Posted:
4-27-11
Our Representative from the 135th District, John Shaban, was

originally scheduled

to be in Weston on

Thursday, April 28th

.  THE

DATE HAS BEEN CHANGED TO MONDAY, MAY 2nd at 7:00

IN THE TOWN HALL COMMISSION ROOM.

TOWN "SHRED IT" DAY - JUNE 4, 2011
Date Posted:
4-27-11
The Town will hold a "SHRED IT" day for residents to bring important papers that they do not want to just throw away.  "SHRED IT" is a company that provides document destruction - DONE RIGHT - ON SITE!  Reeidents can bring their important papers and watch them being shredded so that their confidential information is kept confidential. 
We are scheduled for Saturday, June 4, 2011 from 9:00am - 11:00am in the Town Hall Parking Lot by the Fire Station.  More information will be available in a couple of weeks - but keep this date open on your calendar if you wish to participate.  You will need proof of residency.

Results of Budget Referendum
Date Posted:
4-14-11
Proposed Town Budget - $11,184,216                           Yes:    697              No:   186
BUDGET PASSED
Proposed Board of Education Budget - $45,166,377       Yes:    574              No:   308
BUDGET PASSED
Referendum Question:  Shall the Town of Weston refer a proposal to construct a non-denominational municipal cemetery to the Planning and Zoning Commission, and appropriate up to $30,000 for the required documentation?
PROPOSAL  DEFEATED                                              Yes:    338           No:   536
A TOTAL OF 885 ELECTORS VOTED IN THE BUDGET REFERENDUM.


Weston's Hazardous Waste Day Was Saturday, April 23, 2011
Date Posted:
3-06-11
Weston held its Annual Household Hazardous Waste Collection Day on Saturday, April 23rd.  If you missed this Hazardous Waste Day,  Weston Residents are able to go to several other towns for their Household Waste Days.  For a list of other Cooperating Communities and their dates of collection, Click Here.  For more information on what is accepted,

Click Here.

 

here is no charge for participating, but you will need to show proof of residency.


>> Click here for complete news listings.
>> Click here for complete events listings
>> Click here for Channel 79 Broadcast Schedule