Contact Emergency Services
Police, Fire, EMS, Animal Control
or
---

The Town of Weston has instituted the CodeRED Emergency Notification System. Sign up for the CodeRED Early Warning System
CodeRed FAQ available here.
---
Weston Town Hall
.

Office Hours 9:00am-4:30 pm
Monday - Friday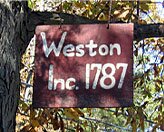 Enjoy the beautiful scenery in Weston this Spring.



CUSTODIAN/MAINTENANCE POSITION POSTING
Date Posted:
7-28-09
The Town of Weston is accepting applications for a Custodian/Maintenance position.  Employee maintains Town buildings with regular custodial care and simple maintenance activities. Duties include: clean Police Dept. daily, stock bathrooms, empty trash cans, snow shovel walks, set up meeting rooms, change bulbs, order supplies & complete special project assignments. Also drives town vehicle for various errands such as bank deposits, mail delivery, etc. Additionally, serves as back up driver for elder services. Full time weekdays, with some weekend building checks required. Good communication skills, CT driver's license, bondable, and HS diploma or equivalent required. Full-time. Starting salary $15.05- 18.43 hr. Full benefits provided. Town application must be submitted, and is available in person at Town Hall, 56 Norfield Road, Weston, CT. from 9 to 4 weekdays or downloaded from this site.   Applications are to be returned to Town Administrator, PO Box 1007, Weston, CT  06883. Applicant review will begin August 13 and will continue until filled.    Download Application. 

Assessor Field Cards Online
Date Posted:
7-16-09
The Assessor's Field Cards which are available online from Vision Appraisal are only up to date as of December 31, 2008.  We will be updating the system soon but if you need a current Field Card, you must come into Town Hall or the Town Hall Annex. 

Transfer Station Has Expanded Its Recycling Program
Date Posted:
6-29-09
The Weston Transfer Station is now accepting plastic recyclables numbered 1 through 7.  Be sure to rinse the plastic containers well and remove their caps before depositing them in the proper bin.

COMPO BEACH STICKERS
Date Posted:
6-28-09
Weston is no longer selling Compo beach parking stickers. Beach stickers may be purchased from Westport Parks & Rec Monday thru Friday from 9:00am to 4:30pm and Saturdays from 9:00am to 1:00pm (Through July). Click Here for more information.


>> Click here for complete news listings.
>> Click here for complete events listings.