Contact Emergency Services
Police, Fire, EMS, Animal Control
or
---
Questions/Concerns?


Click here.
---
---
---

The Town of Weston has instituted the CodeRED Emergency Notification System. Sign up for the CodeRED Early Warning System. CodeRed FAQ available here.
---
Weston Town Hall
.

Office Hours 9:00am-4:30 pm
Monday - Friday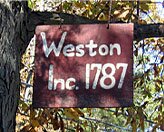 Enjoy the beautiful scenery in Weston this Fall.



TOWN OF WESTON COMMUNICATION SURVEY
Date Posted:
9-28-11
The Connecticut General Assembly and other state entities have begun their examinations of the response of the State and the two electric utilities that serve the state (CL&P and United Illuminating) to Hurricane Irene.  These entities will also investigate the level and extent of communications between the utilities and municipal officials. At its meeting on September 15, the Board of Selectmen acknowledged the value of hearing from Town residents in order to assemble and to analyze suggestions on the following topics:
preparedness for future weather-related emergencies

communication from Town government to Town residents
We would greatly appreciate receiving your response to the following questions, as we attempt to learn from what went well and what could have gone better.
CLICK HERE to take our short survey.

FEMA Representatives in Weston to survey Hurricane Irene Damage.
Date Posted:
9-21-11
Representatives from FEMA (Community Relation Specialists) will be in Weston surveying damage from Hurricane Irene beginning today, September 21.  They will be visiting affected property owners who reported damage.  All representatives have identification badges.  They expect to be in Weston approximately two weeks.

Registrars of Voters to hold a Voter Registration Session
Date Posted:
9-20-11
On Tuesday, October 4, 2011, the Registrars of Voters will hold a registration session at Weston Town Hall from 9am – 5pm to register new voters seeking to vote in the Municipal Election on November 8th for First Selectman, Selectmen, Town Clerk, Tax Collector, Board of Finance, Board of Education, Planning and Zoning Commission, Zoning Board of Appeals, Zoning Board of Appeals Alternate and Police Commission.
Voter registration forms and absentee ballot applications are available at Town Hall, Weston Library or can be downloaded from the website of the Connecticut Secretary of State,  or  to download the Voter Registration Form.  to download the Absentee Ballot Application.

Planning & Zoning to Hold Public Hearings - October 17, 2011
Date Posted:
9-12-11
The Planning and Zoning Commission will hold a Public Hearings on October 17, 2011 on the application by 12 Old Mill Road, LLC to amend the Zoning Regulations and Zoning Map to create a Neighborhood Event District for the former Cobbs Mill Inn property and on the P&Z's proposal to amend the Zoning Regulations to create a new Retail Zone (Village District).  Click Here
 for Regulation Amendment info. 

Click Here

for application.


>> Click here for complete news listings.
>> Click here for complete events listings
>> Click here for Channel 79 Broadcast Schedule